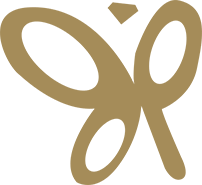 welcome
Papillon Jewelry Garden
Papillon Jewelry, a uniquely Qatari concept, was created in 2011 by Doha native Noora Al Ansari, who has always been passionate about the dazzling beauty that can be created, by visionary designers and expert craftsmen, from the simplicity of natural elements such as precious metals and stones.
"Papillon" is the French word for the butterfly, which is the emblem of the boutique's logo. Noora Al Ansari, the creative force behind this unique Qatari brand, reveals the reason for her choice: 'I chose the name 'Papillon', as a butterfly expresses the happiness, beauty, freedom, and confidence of any woman buying a special piece of jewelry. This is what I wanted to share, and why a butterfly became our symbol'
This vision of the butterfly is expressed in every detail of the boutique: the color green   represents a peaceful garden that invites clients to relax under the sunlight, which in turn is symbolized by the beige and gold highlights.  In her inspiration, Noora invites clients to walk in her garden of jewels and to experience the enchantment of her glittering collection. Each piece of jewelry becomes a flower and each client a butterfly, flying freely from one gorgeous blossom to another. The interior of the boutique is surrounded with mirrors which reflect the client's beauty, as clear water reflects the butterfly's wings as she dances above it.  And, when a butterfly selects her flower, she reveals a facet of her own secret self… in her secret garden.